07/11/08
Filed under:
General
Posted by:
@ 5:05 pm
So… I haven't updated my blog or website in quite a long while. And I haven't written much of anything at all this year. I seem to have needed a break after several very prolific years, and as usual when one takes a hiatus from one thing other things rush in to fill the holes in the schedule. I have also missed being in print, as I have seen three worthy periodicals go Web-only since I started doing this; somehow the motivation to see my name in pixels just isn't as strong.
So I was pleasantly surprised today when I stopped into Borders and found not one, but TWO new books in the Humor section, written by some truly funny people who are not me, but were kind enough to mention or include me in their books.
One is by Yankee Pot Roast founders Geoff Wolinetz, Nick Jezarian and Josh Abraham, who included a bunch of us who have been frequent contributors to their website in a very kind Acknowledgment at the back of their excellent, all-new pop culture survey: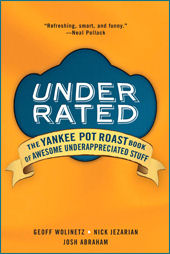 The other is by writer and humorist Jake Kalish, who solicited my input as one of "The Experts" on several of the hilarious hypothetical batailles royales discussed in his new book: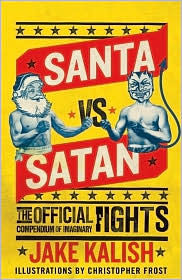 (I particularly enjoyed commenting on Cap'n Crunch vs. Tony the Tiger, and Voltaire vs. Voltron.)
These guys and their books are very funny indeed. Go forth and read!
Leave a Reply